Windows 7 is engineered for better speed than its predecessors (Windows Vista, etc). But even then, most of us don't get satisfied with it. Most of us, especially gamers, want to use the least possible memory and resources for their Windows. In this way, more resources can be focused on your games or other applications that are relatively important. Here in this article, we will show you a few tricks you can apply to reduce the all possible burdens on Windows 7 and speed up (optimize) your Windows 7 to its maximum potential.
Disable the Aero Theme on Windows 7
The Windows 7 Aero theme adds some extra beauties to the Windows 7 interfaces, but certainly is a resource hog. Unless you care about the looking of your Windows 7, what we want now is more performance juice from the OS, so disabling this feature is an essential step to add an extra speed boost to your computer.
To disable Windows Aero Theme:
Disable Search Indexing Feature in Windows 7
Search indexing feature enables fast files and folders searching on Windows 7 by keeping tracks of all the files and index them in advance. This certainly eats up a lot of your system resources and consistently slows down your computer. This feature is indeed useful only if you frequently perform file searches on your computer. If not, we would recommend you to disable this resources hogging service in order to speed up your computer.
Disable Windows 7 Sidebar (Gadgets)
The sidebar is the process that runs all your gorgeous gadgets on your desktop. Most gadgets can eat up lots of system resources and can slow down your computer as they run consistently on your desktop even if you run a full-screen program. These gadgets also take quite a lot of time to load up when you startup your Windows 7. Disabling the sidebar can certainly improve the performance of your Windows 7 and speed up your computer startup.
Disable Other Unused Windows Features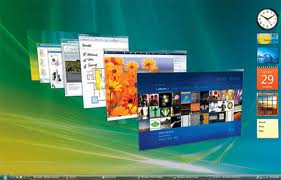 You can also disable other Windows features that you don't need. Every feature would use up a certain amount of system resources. Disabling them can certainly free up some resources and speed up your Windows 7.
To do so:
Click Start -> Control Panel.
Click on Programs, and then Turn Windows features on or off.
Uncheck features that you don't need.
Click Ok when you've done.
Disable Unwanted Services to Speed Up Windows 7
T
here are, in fact, many services in Windows 7 that we don't need for our daily use. For instance, services such as print spooler is only needed when you want to print something. If you don't often use your printer, you can safely turn off that service and turn it on again when you need to use it. You can disable these services (or set them as Manual) to reduce the burdens on Windows 7 and hence speed up your computer and Windows 7 startup time.
Tutorial form
http://havelockknights.blogspot.com/